Major Producer of Plated and Anodized Parts for Military, Aeronautical and Aerospace Applications.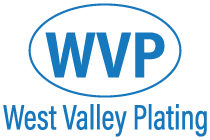 West Valley Plating, Incorporated began operations in 1998, as a small company with the vision to become a completely self-contained, full service one-stop supplier of high quality metal finishing services to the aerospace, military, defense and commercial industries. West Valley initially provided basic processes such as anodizing, passivation and chemical conversion coatings. As the company continued to grow it required larger production facilities. Our current building was purchased and the second phase of our growth plan began in our new, larger facilities at our current Chatsworth location.
We have enjoyed the prestigious NADCAP approval since 2004, and our certifications and approvals have been constant and ongoing since that time. The technical demands of NADCAP chemical processing saw the need to increase the technical staff as well, providing the necessary expertise and professional guidance. Dr. Inda Rodriguez, was added to the staff. Dr. Rodriguez holds his Ph.D in Chemical Engineering from the University of Washington.
His background and many years' experience served to become the platform for growth as the company began the one-stop shop approach for all metal finishing services. The fiscal year 2020 expansion is the result of years of planning and as such, numerous additional services have been added, such as: Non-Destructive Testing (Penetrant and Magnetic Particle inspection), painting and spray coatings (Primers, Top Coats and Dry Lube), and specialized masking techniques. In addition, Magnesium and Titanium processes have been added to our catalog of services.
Our wide range of chemical processes is one of the most complete in California. A new chemical lab Spectrophotometer for accurate analysis and control of the chemical processes was added. Solar panels were installed to reduce the carbon footprint, and the company maintains a policy of no wastewater discharge to the city sewer system. The waste water is treated, and a large percentage is then recycled.
West Valley Plating, Inc., is truly a one-stop shop for many metal finishing services. If there is one process not listed in our "Processess" category, feel free to contact us so that we may begin to work on the solution to your unique problem.